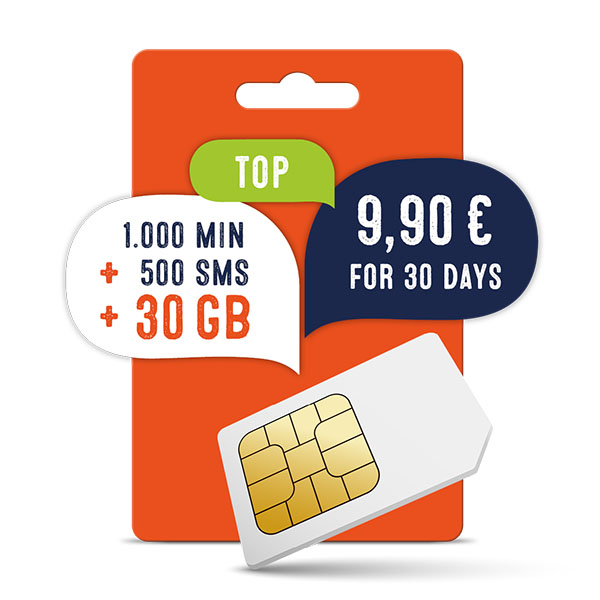 Tariff TOP
9.90 €
incl. 20% value-added tax. Shipping conditions
No service fee.
Easy to import your existing call number.
No activation fee.
This product contains a SIM-card with tariff TOP and is valid for 30 days
Price for 30 days
€

9.90

Minutes within Austria across all networks and within other EU countries*
1,000 min.
SMSs within Austria across all networks and within other EU countries*
500 SMSs
LTE data throughout Austria
30 GB
Incl. data for use in the EU
10 GB
Maximum speed (download)
100 mbps
*) Does not include calls and SMSs from Austria to other EU countries.
One eety TOP tariff package is valid for 30 days. You will get another tariff package after 30 days automatically if you have sufficient credit. You will be charged according to use if you have neither sufficient credit nor an EXTRA package: 5 cents per minute or SMS and 0.9023 cents per MB. Once you have topped up with sufficient credit, you will get another TOP tariff package automatically. Minute increments (national): 60/60. Data billed in 102.4 kilobyte increments.
Roaming:
The eety TOP tariff is suitable for roaming. The minutes and SMSs included can be used throughout Austria and in EU Zone 1. 10 GB of the data included is available for use in the EU. The costs applicable throughout Austria will be charged per minute, SMS or MB once all the included minutes, SMSs and data are used up. In the event of any use beyond that or predominant use of your connection in other EU countries, costs will be incurred in accordance with legal regulations. Details can be found at www.eety.at/agb.
If you already own a SIM-card and wish to switch to this tariff, pick one of the three options below:
If you enable "Automatic recharge" in Selfcare, your account will automatically be recharged with the correct amount required, for your tariff package to continue being active. Insert your credit- or debit-card data and you never have to worry about manually recharging your account.
Click here to download your  contract summary. For the purpose of documentation, please download this document before purchasing the product.